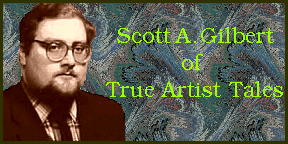 Scott Gilbert is, dare I say, a Houston institution whose daily strips have been appearing in local rags since I can remember. The reason Gilbert is so valued in this community is because he so perfectly captures everything about the bizzarre thing that is living in Houston. The following is a short e-mailed interview for your pleasure but if ya want to really vibe on Sir Gilbert check out his page at Scott Gilbert's True Artist Tales
---
WG: If you had chosen a different medium what would you be missing in your life? What do you get out of this.
SG: The 2 main passions of my life keep me in comics, because they are the basic components of comics: drawing and narrative (storytelling). I might easily have slid off into just painting or writing fiction, but the combination of the two in comics is perfect for me. Also, there are formal elements of comics which are fascinating to me, for example, an exercise of lyrical timing similar to that found in poetry (yet also linked to the maintenance and manipulation of tension in staged drama and comedy, and further linked to the visual activity of choreography in dance and acting). Comics (or comix or the graphic narrative, however you like to call them) is a unique artistic medium with unique intrinsic formal qualities, but it tends to combine and hybridize other mediums which are more traditional and more popularly accepted in our society. I just dig it, man!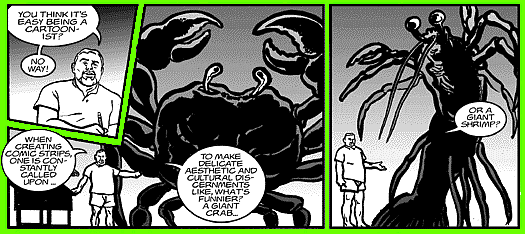 WG: How do you feel about the state of comics today?
SG: When we talk about "comics", we're speaking of a lot of different things, depending on what our concerns are, and where we live. The traditional comic book industry in the United States is currently collapsing. The superhero genre, long the pathetic mainstay of the U.S. industry is incredibly inbred artistically and has fallen out of favor with the public who are buying fewer and fewer of these types of books. This is good news for non-genre, non-superhero, so-called "alternative" comics, which people are continuing to by at pretty much the same low levels they always have. A lot of people in the industry are out of work now, and the entire apparatus for distributing comics is in a state of panic and constriction. The entire industry needs and will see in the next few years, a total restructuring. Comics in the U.S. in general are losing favor with the broad public (and losing their buying dollars), due to the increasing popularity of electronic media, and to the changing reading habits and perceptions of narrative in our society in this post-MTV world. Comics as an art form in the U.S. are doing pretty well, thanks to a broad influx of dedicated and intelligent young talent (Tom Hart, Jon Lewis, Dan Clowes, the Hernandez Brothers, Chris Ware, Jessica Abel, etc.) who do not have any allegiance to the traditional super-hero mainstream. Unfortunately, the lack of income comics provide will tend to squeeze a lot of this young talent OUT of the medium over time.

In other countries, comics are in quite a different state, so to speak. In Japan comics are incredibly popular and are a vast, explosive industry. Japanese culture is so very different from ours, however, that I can't even compare the operations of the medium there with what I'm familiar with here. There's some good stuff being done over there, but from a completely alien perspective. In Europe (and Quebec in Canada), comics are doing GREAT as an art form, and as an industry. As with jazz, comics receive much greater and broader respect as an art form worthy of serious consideration by adults in Europe generally. Comics are packaged in elegant, beautifully designed hardcover editions and proudly sold by real bookstores rather than smarmy comic book fanboy shops (as they are here in the U.S.). Since comics in Europe receive a reasonable amount of respect and acceptance from their audience, it is possible for comix artists to make a good living off their work and to improve their work over time. As a result, European comics achieve levels of aesthetic, and contentual maturity far higher than those of most U.S. comics.

WG: How long have you been doing True Artists Tales. It's one of those things that's been around so long that I can't remember a time without it?
SG: TAT has been around since 1987, but has been a strictly maintained weekly strip only since 1991. It's been a long, tough fight, and it ain't over yet.
WG: How did you feel about the whole public news choosing not to run your Camel parody?