We encourage you to support your local indie record store but, if you can't find the title locally, you can click on the Amazon.com logo to the right of the item to order through them. Note: Many items on Amazon are accompanied with real audio clips.
---
________
AALY Trio + Ken Vandermark
Live at the Glenn Miller Café
(CD- Wobbly Rail 1999)
Do you remember when you were a kid and that wondrous feeling you'd get from running around in kindergarten screaming and wailing with the rest of the class in an joyful cacophony while your teacher would try to regain order? Well, that is the best analogy I can make to this CD. Mats Gustafsson and Ken Vandermark are having too much fun with their horns and the rhythm section of Peter Janson and Kjell Nordeson are just as raucous. But don't get me wrong, this is a perfect example of great musicianship- it sounds so easy and fun because they have a real mastery of their instruments.
I suggest that you play this CD when you get up in the morning- it'll make you feel more awake and ready for the day than a whole pot of coffee. -RM
---
Amon Duul II
Yeti
(CD Spalax)
I really don't know that much about Krautrock. I don't even like a fair amount of underground (read: commercially unsuccessful) progressive rock. I can't tell you which Guru Guru members showed up on Agitation Free recordings, and I really can't tell you what record collectors pay for out of print obscure records by late 60's/early 70's German bands you've never heard of. I can tell you this: "Yeti" is perhaps the finest rock record ever made, "progressive", "Kraut", "punk" or otherwise. Originally issued as a two-LP set c. 1972, it has apparently never been out of print for any substantial length of time. Amon Duul II crafted some incredible lysergic moments, varying from almost pop to almost hard rock to truly trance inducing jams that were only constrained by the length of an LP side. At their prime, their songwriting, musicianship, and production were pretty much untouchable by mere mortals.
On Yeti, Amon Duul II was in top form. A drug-drenched guitar overdriven break will knock your brain for a loop, only to yield to a pretty vocal lead interlude. Yes it's art; no it's not any more pretentious than any other great record. Oh, they indulge themselves, but the results are an express bus to someplace else. Find a song as visceral as "Eye Shaking God." Keep track of time in any meaningful sort of way while listening to "Sandoz in the Rain." Try not to transcend while listening to "Cerebus." Luckily, all the good Amon Duul II and Amon Duul (yes, there is a difference) records have been reissued on CD, even the Amon Duul singles ("Dance of the Lemmings" on Spalax). It's almost all worthwhile, but Yeti is absolutely essential. However, avoid "Made In Germany" (pretentious rock opera) or any of the disco stuff, which, mercifully, has not been reissued. -AC
Spalax Records
10 rue de Feuillantines
75005 Paris France A pretty cool Amon Duul II site is here:
www.btinternet.com/~andy.gilham/amonduul2/ad2.htm
---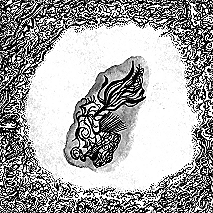 Ash Castles on the Ghost Coast
s/t
(CD-Fleece / Wholly Other 199?)
I can see why people mistakenly think Ash Castles on the Ghost Coast is Charalambides in disguise. Both work in the same mine, but the two bands are going after different veins. ACotGC's eponymous first release is as plaintive a wail as anything that's come out of New Zealand in the past 10 years. Galveston, Texas' Ash Castles mostly works with more primal emotion, treading close to the line where it would seem affected, but never quite stepping over it. Whether it's the sometimes quietly grating stringed instruments, primitive electronics, organ, bells or the mostly-wordless vocals, everything here is real. Charalambides work with lyrics and vocals that sound like a shriek or moan from the crawl space under your neighbor's house. ACotGC prefers to convey emotion mostly without lyrics, and in many cases without vocals. Tension builds, but then it collapses into the realm of pretty or strange or both. The results are stunning. -AC
Fleece Records
POB 77012
Houston, Tx 77270
Email:Fleece


Wholly Other
POB 1481
Austin, Tx. 78767-1481
Email:whother@flash.net
---

Bevis Frond
Live at the Great American Music hall, San Francisco
(CD Flydaddy 1999)
Ramón, you asshole. You reviewed Vavona Burr before I could, and you said everything I was going to say. I got revenge by going to Austin to see a 2 hour Bevis Frond set at the Ritz the night after they played in Houston.
OK, so when the fuck is he going to get to the CD review? Well, you've waited long enough. This is a very well recorded and very well played live outing, as the title might imply. It was recorded in 1998 with Nick and Adrian, but with a different but equally good drummer, Andy Martin. The music pretty much follows along with the studio versions. However, the solid rhythm section allows Nick to roam free on the guitar throughout, so songs you've heard before sound like you're hearing them for the first time. The guitar shimmers- as you would expect from one of the best psychedelic axe handlers of all times. Another good reason to buy this is that it contains songs from currently out of print or difficult to find Bevis Frond offerings, such as the London Stone CD/LP and the incredible New River Head CD/ 2 LP. These are very good songs, and are worth buying the CD for by themselves. If you've ever seen them live, that's another good reason to see them - it will definitely have you flashing back. Oh, did I mention that Bevis Frond is a solo project by Nick Soloman, which turns into an incredible band when they tour? Or that this is intensely psychedelic and intensely personal yet universal music? You can't help but feel that there is hope in the world when a Bevis Frond song is playing, even if there really isn't. All things Bevis Frond are worthwhile; I've yet to here a Frond CD, LP, 7" that wasn't worthwhile; even the pretty good 2 CD North Circular, which certainly could've been edited down to a killer single CD. Anyhow, this live CD is as good a place to start or continue as any. -AC
Go here for a cool unofficial Bevis Frond web site:
www.bart.nl/~cvdlely/bfrond.htm For Woronzow, Bevis Frond's U.K. label, go here:
Woronzow For Flydaddy, go here:
Fludaddy
---

Charalambides
Internal Eternal
(CD Wholly Other 1999)
Whew! Talk about last minute reviews that I'm happy to cram into this column. Oddly enough, this is not "new" material. I was about to rave about how fully they have progressed to this new spacious and sublime sensibility that transcends all their previous work. Then I realized this was recorded back in 1995- they hadn't even moved to Austin by this time. So, given this revelation I must quickly revise my review.
What we DO have here is a wonderful artifact either just before or just after the departure of Jason Bill. What I loved about that era of Charalambides was the great 3 piece interaction of the musicians. I felt that the more folky stuff lost some of that excitement in the live performances. This CD gives us Tom and Christina providing that wonderful guitar interaction I love but without the amplified histronics of the trio. This is quiet restrained playing- real musicianship where neither person dominates but gives her/himself to the moment. The result is the most beautiful of all Charalambides CDs to date and easily one of the best records of the year (easily in my top 5)and considering that these are always in small runs (500 or so) you'd be well advised to buy your copy now.- RM
Wholly Other
POB 1481
Austin, Tx. 78767-1481
e-mail:whother@flash.net
---

Albert Collins
There's Gotta Be A Change
(LP Tumbleweed 1971- Out Of Print)
Albert Collins is a God!!!! I remember seeing him play one time ages ago. I was standing right up to the stage and his Fender amp was facing right toward my chest and it actully made my guts resonate because it was such a pure, blue, unbelievable tone. To me Collins had THE PERFECT guitar tone and I have NEVER heard it on record...until now.
It's times like this where reviewing becomes a public service of the greatest degree. I'm reviewing this in the hope that some schmuck has the ability to bring this great lost record back into circulation. Side one is just a riot (side two is somewhat less brilliant but in the days of LPs that is allowed) and really captures what made Collins one of the greatest blues players ever. This LP is humorous, playful, and the generosity that Collins showed to his audience is here. Kudos to engineer Bill Szymczykfor doing what nobody at Alligator records had been able to accomplish- capture his essence.
So, hear my pleas. If you dig Mr. Collins or are a blues fan and see this in a garage sale...Pick this LP up! More importantly, if you have a record company and love blues re-issue this! I can do no more...-RM
A bare-bones biography can be found at: http://www.island.net/~blues/albertc.html
---

The Flaming Lips
The Soft Bulletin
(CD- Warner Brothers 1999)
This CD has been hailed by many as groundbreaking- I'm not sure I can agree with that assertion. Don't get me wrong, Wayne Coyne does have some brilliant moments. "The Spark that Bled" is a great example of Coyne's sense of melody, arrangement, and texture and "Buggin'" is a guilty pop pleasure. But for each brilliant moment there are a host of songs that just don't quite work. "Superman" is nice but forgettable and "The Gash" with its pseudo-choir is why they created the "skip" feature on the CD player.
Perhaps the reason I can't quite go overboard with praise is that there is such a unified feel to this record that it's hard to separate the good stuff from the bad. Coyne seems to have a great idea of what he want's his work to sound like but can't seem to make the whole thing work as a whole. Take, for example, the remixes: What do these remixes of the songs accomplish aside from filling up space on the CD?
I can't help but feel that what we have here is a concept record that thematically just never quite clicked. Still, props must be given for the ambition of the album and if you can program yr. CD player it can still be quite enjoyable. -RM
http://www.flaminglips.com/
---

Ghost
Lama Rabi Rabi
(CD/2XLP Drag City 1996)
Finally somebody in the US has the good sense to release something by this vital Japanese band domestically. Ghost blends elements of psych-folk, free jazz and rock to form some truly magical musical moments. With three previous releases on Japan's PSF label have been spellbinding, and this is equal in quality. I don't know of anybody working in the present to liken this band to, and I won't bother dredging up defunct bands for comparison. Bizarre and intense noise bits will collapse into a very psychedelic folk bit; a driving jam lead by acoustic guitar will take you by surprise. The production is crisp, showcasing their songwriting and musical skills. Ghost creates a dream world and beckons you into it to take a look around. Very creative, very compelling and highly recommended. Note that since I wrote this, Ghost has two more releases on Drag City - Snuffbox Immanence and Turn On, Tune In, Free Tibet. Both are also very worthwhile. -AC
Drag City
P.O. Box 476867
Chicago, IL 60647 USA

---

David Grubbs/Mats Gustaffson
Apertura
(CD Blue Chopsticks 1999)
David Grubbs says "I've got a harmonium and damn it I'm gonna use it." The interesting thing about this is that Gustaffson plays it so mellow that I can't really tell you how these noises he's making are coming about- his horn at times sounds like controlled feedback to me. The result of all of this is a beautiful 15 minute 2 track CD that should make any drone listener happy. The sounds are hypnotizing and a sense of exploration of sounds runs rampant.

If you have a low tolerance for self indulgent music or a short attention span you should avoid it like the plague but if you enjoy this kind of stuff as I do, this is a great addition to the collection. -RM

Email: Blue Chopsticks
---

Artificial Subterrane (aka Paul Guilford)
Water Regions of the Southwest USA
(CD Fleece)
Can one man produce such a rich sound tapestry with just a bass synthesizer? It amazes me that one instrument can yield such variety of sounds. Glass breaks, old building collapse, the environment prevails; all momentarily. How does he pry those sounds out of his rig? On top of it all, he has the good sense not to tax the attention span, a frequent downfall of "difficult" music. Paul presents us with a sound sculpture: this is not mere noodling with textures. He employs everything from harsh electronic bursts to could-be-ambient passages. Garage INA-GRM? Merzbow meets Hands To in Pierre Henry's basement? Comparisons and genres are immaterial when something is this well crafted. My only real complaint is that DJ-ing this is difficult. While there are 14 tracks listed on the disc, they are grouped into 4 digital bundles. This is a DJ's nightmare - isolating the particular passage or song from no tracking. That does not lend itself readily to airplay. Other avant types should heed this as well: your chance of a CD getting played on the radio decrease dramatically if your shortest track is 17 minutes long. Minor control room gripes aside, all of Paul's releases that I've heard are worthwhile. -AC
Fleece Records
POB 77012
Houston, Tx 77270
Email:Fleece

---

Peter Hammill
This
(CD Fie! 1998?)
It has been a while since Peter Hammill has made a recording this good. That's not to say he isn't responsible for some amazing musical moments in recent memory. It's just that This is Peter Hammill in his prime. Firmly rooted in the more outré of prog-rock* yet seemingly timeless, Hammill is a generally ignored musical genius. The last few CDs, from Fireships and Everyone You Hold are certainly worthwhile, but not as compelling as, say, In Camera, pH 7, The Future Now or The Silent Corner the Empty Stage. Then there is the masterpiece, A Black Box, one of the finest recordings of all time. In all, even his lesser works still are superior to most music by mere mortals.
On This, Hammill's unquestionable genius shines through, blinding at times and subtle at others. Haven't heard Hammill before? Stop reading this review and go find a copy of A Black Box, or any of the other releases mentioned in this review. You'll thank me later. Hammill weaves a tapestry with guitars, keyboards (mainly piano), and sparingly used saxophones and strings. For example, on "Nightman", a violin very effectively bounces off of an acoustic guitar. Pretty soon there are several violins and acoustic guitars plus some saxophone. It gradually builds and you find yourself enveloped. Plaintive at times, angry at others, Hammill's vocals are borderline rock-opera; he emotes vocally and musically within it all. None of This would work if his songwriting was not so good and his self-expression was not so genuine. Songs like "Always Is Next" and "Frozen In Place" get positively visceral (there's that word again). Very little of this, or any of Peter Hammill's other work, is particularly cheerful; none of it is dishonest. -AC
*Ever hear of Van Der Graff Generator? Didn't think so. Hammill fronted this great but somewhat obscure band.
For more about Peter Hammill and Fie! Records go here:
www.artist-shop.com/fie/
For an exhaustive Peter Hammill Discography go here:
www.vub.ac.be/STER/KoenWWW/Ph/Discog/Discog.html
---

Hello Kitty Toaster
Sanyo

OK, so I'd been actively looking for this damn thing for months and by some stroke of luck we had to go to Rosa's parents house for some reason and then had to run an errand at the mall. Now, inside Houston, when you go to the Sanrio store, it has a good mixture of people- 15 to 35 year olds trying to find Purin, Bad Batzmaru, etc. But, in this suburban Sanrio the age group was more like 10 and under which made the staff look at us like we were freaks.
So, you can imagine when we saw the long sought after toaster and began hopping with glee they were convinced more than ever that we were certifiably nuts.
So, after all this how's the toaster? Well, let me just say that putting the toaster past the 2 setting is a dangerous thing and should be avoided. Also, it doesn't handle the fancy schmancy bakery breads too well either. But for your cheap ass white bread at about the 1.5 - 2 setting it does magically produce the miraculous image of Hello Kitty. So, now if we could just keep the religious pilgrims away from the door, we'd be able to enjoy this a bit more. -RM
---

Kable
Tardy All the Time
(CD Fleece)
Houston-based solo act that plays some truly strange and wonderful music. Acoustic guitar, percussion, and treated vocals make up most of the sounds here. Electronics and electric instruments are used sparingly on almost all songs. Delicate guitar is knitted with singing that borders on chanting much of the time. Imagine a Xanax-impaired folk band doing Residents covers and you won't be too far off. It's always disturbing yet relaxing, something few artists can attain. The strangeness envelops you, drawing you into Kay's world. Ultimately, this release firmly demands to be listened to. Of course, it will be largely overlooked because (a) it can't be forced into any category and (b) it could never be used to sell anything. -AC
Fleece Records
POB 77012
Houston, Tx 77270
Email:Fleece

---

Keiji Haino
Watashi Drake
(CD PSF Records)
I saw this in the discount bin at Sound Exchange and it really, really pissed me off. This was legendary when it was vinyl, and it has been reissued on CD with an amazing track added on and nobody was buying it. God won't destroy Orlando because of Disney World but Houston could very well be wiped off the map for letting Watisha Drake grow mold at a record store. No other solo performer can elicit so much raw emotion, and that is why people either love him or hate him. There is absolutely no middle ground when it comes to Haino's music. Watisha Draka grabs you by the throat. Raw guitar through Marshall stack power is somehow harnessed and balanced with visceral vocal groaning/wailing/singing. Yes, I realize that I used "visceral" in another review on this page. But "visceral" aptly describes the final track (sorry, don't read Japanese, so I don't know the title): the first four minutes of feedback hell is followed by the roof getting ripped off some club, probably in Tokyo. Unfortunately, the reason this doesn't sell is apathy, which is all the more the pity. Let's just put it this way: if you see this and you like Haino's music you should pounce on it. Sonic Youth will never top Confusion Is Sex and Illusion of Safety will never top Inside Agitator. The scary thing is that Haino probably will top Washita Drake someday. Until then, this, the duet CDs, or the Fushisutsha live CDs on PSF will do. More KH reviews will follow in future issues of this page. -AC
PSF Records
2-45-11 Matsubara, Tereda Bldg 2F
Setagya-Ku
Tokyo, Japan

For an exhaustively thorough Keiji Haino site, go here:
www.planetc.com/users/keffer/haino/
---

La Gloria
Jeremaid
(CD Freedom From/ Furry Bear 1999)
New Zealand's La Gloria gives us the sweet sounds of quiet minimalistic drone at its best with their newest CD. The duo of David Coventry and Marcel Bear has done wonders on a 4-track. The production is spacious and the performances are patient enough to let the moments develop organically. Only the 3 songs recorded in Germany present any awkward points in the CD and this may only be due to the abrupt change in production that sound like someone s running a reverb on the "grand hall" setting. David Coventry replies and busts my ass on this in a recent e-mail- "I had this massive cavern of a studio (an old bomb factory none the less) and I stuck one mic at the amp and another at the other end of the room, compressed the hell out of it and went FUCK....I wrote the songs on the spot basically around the sound of the room. I thought it fitted the overall sound of the record rather nicely."
The rest of the CD though flows beautifully together with assured songs like the Lovely "Six Bricks" with it's wonderful swells of sound and the spacey "Where is there to go?" These, not to mention the rest of this CD, are a perfect example of the genre. The tricky thing with minimalistic material like this is the choice of sounds. Much like an interior decorator one has to have a broad base of options to from which to choose. The trick is then to choose well because one false note can make the difference between a beautiful room and one where all eyes are drawn toward the Precious Moments porcelain figurines. La Gloria thankfully have a concise and beautiful vision worthy of the most discriminating set of ears. -RM
Freedom From
1230 Washington St NE #1
Minneapolis, MN 55413 U.S.A.
On the web at: http://freenoise.org/freedom/index.html

Furry Bear Records
New Zeland
Fax 64 9 6209746

---

The Linus Pauling Quartet
Killing You With Rock
(CD September Gurls)
Ohfuckohfuckohfuckthisisgood. Why would you believe me, though? Ramón, the proprietor of this web site, is one of the six members of The Linus Pauling Quartet and this is his site. Well, enough honesty in advertising. From the sounds of this, at least one member of the Amboy Dukes got kicked out for dosing Ted Nugent, and met up with one of the MC5. They in turn started to jam with an ex-Amon Duul member, who forgot to leave a real intense pot party with the rest of the band, and some Sun Ra sax player who never made it on to any recording. The whole lot of them was cryogenically preserved in 1972, thawed around 1977, sniffed glue at CBGBs for about 14 months, were frozen again, only to be thawed out again in time to join the more obscure remains of Spacemen 3's breakup. Do you have a better explanation? Comparisons are always unfair, and they are especially unfair for this band. Who else would use surf guitar on a heavy, heavy psych jam ("Insomnia") or cop the main riff from Stranglehold for an ode to hemp ("The Colour Out of Space")? There are bands who sound like they're on drugs (e.g. Skullflower) and bands that sing songs about drugs (e.g. Monster Magnet), then there's the Linus Pauling Quartet, who sound like they are singing songs about drugs while they are on drugs. Oh fuck, nobody's supposed to take drugs anymore except for Prozac. Please forgive me. Drugs are bad, OK? If you like the Mike Gunn, this is right up your alley. If you don't like the Mike Gunn, go play in traffic. -AC
September Gurls Records
Sigmunster. 92
90431 Nurnberg, Germany

---

Overlight Underdark
Kill You Until You Die
(CD 1999 Slapjack Enterprises)
Thomas Ayresol and Jeff Bobbitt are two really nice guys. Ayresol in fact is one of Houston's best drummers. Yet, I cannot recommend this CD despite their long list of local credentials. This has less to do with whether or not it is inherently good or bad but more to do with my own personal aesthetic. Yep, that's right I am throwing in the towel and admitting that I just don't get it.
To review what I don't understand would be a disservice to the musicians and my readership. I CAN say that the one song I DO like is "It's Rough Y'all" which is very much unlike the rest of the CD. Its simple and to the point style contrasts with the kooky suckerpunch Ween-meets Prog Rock aesthetic of the rest of the CD. This latter style HAS to appeal to somebody out there and if someone reading this does get OLUD please let me know and I will be happy to replace this half-assed attempt at a review with your more sophisticated one.-RM
Slapjack Enterprises
PO Box 130236
Houston, Tx. 77219-0236

---

The Party Owls
Why Drag it out
(LP Lance Rock/ Ecstatic Peace 1999)
Houston music -I mean Charalambides, the Mike Gunn, Sugar Shack, Dry Nod and etc.- would not be here were it not for one band. OK, Fuck it! I wouldn't have given a shit about Houston music were it not for this one band back in the 80's. I recall back in high school where Clinton Heider bought a copy of "Rock Out" by the Party Owls. It is still one of the greatest achievements in music and now we have (a long ways after the fact) the long lost Party Owls record- the only one they recorded mind you. Black Flag's "Damaged" and the Party Owls' EP were my fucking soundtrack back then and all I can say is GOD BLESS YOU THURSTON MOORE and them crazy Canadians!
This is all that is good and true in Houston music. Back then- along with bands like Really Red and Culturecide- the Party Owls ruled the world except they had a sax and had no agenda aside from rocking the house. From the wreckage came Sugar Shack years later (can't stop the rock) but this was Glenbo, JR, Mark, Andy, Dave, and Rob at their immature, youthful, fuck the world, punk rock glory. I hope that when you buy this (and you will because I command you to do so) you will at least get a taste to what was, what was possible, and the legacy that this carries to this day.
"Shiner beer keeps us full of cheer/ and we yea we really like it here" Amen!
Long live Houston Punk rock! -RM
Lance Rock Records
1223 College Drive
Nanaimo, B.C.
V9R 5Z5

---

Peglegasus
Tired of Adventures
(CD- Mad Entropic Carnival 1999)
I just got this in recently and had to slap this in at the last minute. As you may know by now, Peglegasus are the brilliant but ill-fated band whose last CD (So Much For King Tut) was everything the band had been live but sadly the day before the CD was released the label went bankrupt. Hopefully this time around the gods will smile favorably toward our heroes.
This CD continues the tradition of the previous Peglegasus CDs of amazing musicianship and some of the sharpest songwriting in Texas. While longtime bassist Henry Duys III left the band (appearing on only 5 songs) the new guy Bryan Nelson does a pretty good job of filling in some pretty big shoes. And the two-guitar team of John Voscamp and Berke Marye play off each other like a beautifully choreographed and intricate dance where you want to slow things down to see just how they did it. And John Vaughn Boone's sensei Peter Voscamp is, as always, playing his kit in ways that are complex yet beautifully restrained.
Look what can I say I've admired these guys for years and the least you can do is humor me and check them out either live or with this wonderful CD.
Mad Entropic Carnival
50 Onion River Rd.
Plainfield, VT. 05667

---

Yank Rachell's Tennessee Jug-Busters
Mandolin Blues
(CD Delmark 1998)
With biggies like Big Joe Williams and Mike Bloomfield literally in the house you know you are in for a treat. This little gem was recorded in 1963- bless the cats at Delmark for releasing it on CD last year. But the name of the band is somewhat deceptive. Jug playing sadly isn't very prominent (Hammie Nixon mostly sticks to the harmonica here) but when Nixon does play the jug it is amazing. The true centerpiece of these recordings (both recorded within a month of each other) is Yank Rachell's lovely mandolin playing. Rachell has beautifully adapted the mandolin to the blues in a way that is so organic, especially in the way it plays of off Sleepy John Estes' guitar, that you marvel at why it is never heard more often in the genre.
The playing is as loose as one would expect from a recording done at the comfort of a home as opposed to the sterile world of the studio and perhaps that is what makes this CD so much fun to listen to over 30 years later. Rachell's spirit is here for all who want to kick back and listen. Hopefully, you have the time to give him an ear. -RM
www.delmark.com/delmark.home.htm
Mandoline, an online mandolin magazine, has a good bio with links at:
www.mandozine.com/departments/bluesmando/yank/rachell.html
---

Seventy Seven
Whiskey Dick
(CD 1999 Love Shove)
Back in the late 80's/ early 90's bands like the Melvins, Rat at Rat R, and Soundgarden (subpop era) ruled a fine little empire. A club called Emo's acted as Houston's local outpost for this phenomenon. In Houston Emo-core wasn't emotional core, it was Jim Beam-Marshall-Gibson-testosterone driven alternative metal. These days Emo's is a punchline and the empire has long since collapsed. Still some outposts survive and follow the old ways.
Seventy-Seven is one such outpost. With Curt Almeron Mackie (yep, Ex-Mike Gunn) at the drums, it's a sure bet that these guys don't just play it -they live it! I ain't joking, these guys do the whole football parties- sloppy bachelor pad- alcohol as water bit to this day! I mean you gotta give 'em props for at least sticking with it this long.
But enough about them, let's get to the music. Well, if this were 1990 then these guys would be welcomed as mighty warriors of the kingdom. The vocals are hilarious and the playing is classic for the genre. Only one question remains- has enough time passed to let people clear their palate from the last round with this kind of music? I doubt it but somebody has to keep the flame burning until the empire comes back and you can find no better representatives for the days of yore than 77. -RM
For more information contact "Catfish" at 713.523.8503
or "slim" at rcslim@hotmail.com
---

Milovan Srdenovic
Songs from west of the pelvic girdle
(LP Freedom from.. 1998)
Thank god that someone is keeping true to the weird. Milovan is part Tom Waits, part Residents, and part just a freak. Side one has loopy songs like"San Quentin" that prove that one shouldn't toss those old crappy 80's keyboards while others like "120degrees" sound like mutant country music. Side two (just as much fun as the first) has guitars that make noises they were never intended to make and even the evil Syndrums make an appearance to great effect.
This LP is just a wonderful and freaky collection of sounds and music that should not be but are. But don't get me wrong, Milovan is no fool, this guy knows what he's doing and luckily for us his creations can't hurt us…yet. -RM
Freedom From
1230 Washington St NE #1
Minneapolis, MN 55413 U.S.A.
On the web at: http://freenoise.org/freedom/index.html
---

Sunroof
Delicate Autobahn Under Construction 2
(CD VHF 1999)
I don't know how bad you felt when you heard that Skullflower had broken up, but I know I was not happy. Then Matthew Bower's other band, Total, goes away. Their swansong starts with an incredibly abrasive, droney ball of sludge disguised as an LP entitled "Clear Factory" (Majora). Three years later, it dies with the more spatial "Eternity's Beautiful Frontispiece" CD (VHF). What could possibly happen next? Sunroof. There is always at least one guitar involved; at least one is droning at all times, but sometimes actual notes are plucked while a atonal echo is buried deep. Bower overlays hand percussion, sometimes to the point of drowning out whatever the guitar(s) are doing. Structure isn't a question here. It may sound like Gamelon or it may sound like Whitehouse. The drone is the only constant, here, at once grating and beautiful. Total's amazing (and tragically out of print) Here Space is Time 2-LP on Majora is in the same neighborhood. Be prepared for some endurance tests: one track, "Silver Pennies" goes for over 20 minutes with no appreciable change other than in modulation. Other tracks are less lengthy. By the end of both CDs, you'll be experiencing some severe (and legal) time dilation. -AC
For more information than you will ever need about Total, Skullflower, Sunroof, Ramleh and the whole incestuous lot go here:
lonestar.texas.net/~monorecs/skull/info.html
---

Superchunk
Come Pick Me Up
(CD Merge 1999)
Pop is a very tricky thing. Much like pastries you can have a very subtle well-crafted desert or you can have that crap they bring into the office from Wal-Mart. Superchunk has been making some pretty tasty indie pop for (what is it now?) 10 years. It's pretty amazing that these guys can still put a solid LP without sounding like old hacks by this time.
Come Pick Me Up, unlike the above reviewed Flaming Lips album, doesn't try to wow with production or theatrics but just plays it straight, simply and confidently- a band with nothing to prove. Songs like "Cursed Mirror", "June Showers" and "Low Branches", for example, are the kind of bouncy tunes that you've come to expect from these guys. One of the few nicely executed surprises is Ken Vandermark's Clarence Clemons-esque horn solo on "Pink Clouds" that makes a would be throw-away a hoot. But this is not going to change your mind if you have no taste for Superchunk but for those of us who've come to enjoy the Iron Chefs' treats for years it's a welcome addition to the collection. -RM
---

VARIOUS ARTISTS
Global Lo-fi Underground - Vol. 1
(CD Duckweed 1999)
As the large record companies combine and get bigger and dumber, many little labels are still making music that they care about. Duckweed seems to be on of those labels and this collection is a great introduction to a worthy cast of unsigned musicians.
The best of the lot is Bill Foreman. I want to say that name again- Bill Foreman. The man writes some of the most beautiful folk music I've heard in a long time. "The Snowbank's a Feather Bed" is one that still sends chills down my spine: a perfect gem. Meanwhile, Foreman's "Blue Desert Hills", with it's loopy flutes and drunken sway, is also a joy.
Other highlights include Bill Forden's melancholy acoustic guitar piece "La Belle Epoque" which leaves one wondering why he only is relegated to one song here. Mas! Mas! The Busted Fans provide inspired goofiness whereas Down with Ants are just plain goofy- that's meant as a compliment. Air Hockey Injury pulls in some nice numbers despite their derivativeness (Galaxy 500 and the Cocktails). And there's some other cool performances here by bands like Grenade and A: Minor but if I were to review everyone specifically this'd be a bit long so just trust me…CD Good! Fire Bad! -RM
Duckweed Records (UK)
PO Box 22, Oxted
Rh8 9YP, England
Duckweed Records (US)
2442 NW Market St Box 354
Seattle, WA 98107 USA

on the web: members.tripod.co.uk/duckweed
---
Book Reviews

Erotism
George Bataille
(City Lights)
You think you know something about death. You also think you know something about eroticism. Unless you have read this, you are wrong. Bataille dissects the human id very effectively. Would you have thought to link awareness of mortality to the dawn of erotic consciousness? He also explains your most fundamental instincts in the most brutal clarity. De Sade, Leng Tche, Cretan fertility sculptures and Gilles De Rais all figure in Bataille's weltangschung. Required reading. -AC
www.fringeware.com/subcult/Georges_Bataille.html
City Lights is on the web at: City Lights.com
---

Peter Sotos
Total Abuse
(Goad to Hell)
Sotos writes about the dark, violent side of human nature, crawling inside serial killers' and child molesters' brains and spilling the results on paper. The results are repugnant, shocking and very, very disturbing. He succeeds where de Sade ultimately comes up short. De Sade's characters are caricatures, while Sotos' are real people. Real viscous people. This is not some "my favorite serial killer" titillation for mass consumption; this is the real thing rubbed in your face and scarred into your brain. Sotos is arguably the best North American writer alive today. You decide whether or not that's unfortunate. Read it and weep. -AC
A revolting Peter Sotos link is here:
http://www.teleport.com/~goad/text%20files/sotos/sotomenu.html
Warning - this is not for the easily offended.
---
Live reviews

Bevis Frond/ 7%Solution/ Yind/ Linus Pauling Quartet
Houston on October 1, 1999 at Mary Jane's
Austin on October 2, 1999 at The Ritz
To start, the mighty Linus Pauling Quartet played an absolutely ferocious set opening for Bevis Frond. In a way I'm glad that Linus is from Houston, but in a way I'm sad. I'm glad I can go see them in some really cool local dives, but I know if they were from Austin or NYC, most of the western world would be worshiping them.
The chemistry in LP4 is amazing. Three guitars that mesh as perfectly as they desire at any given moment. This is laid over the solidest rhythm section around. How exactly does Charlie keep that severely-gated guitar in perfect time when he wants too? Is Dumb-Rock here to stay? And in what way are the sopaipilias evil? From very, very funny to very, very heavy, these guys entertain constantly. Some of the guitar jams were in the same building as the Ex or Sonic Youth in their prime. I said "same building", but probably a different planet. The ultra tight and ultra dumb fused into a very driving set, including one of my personal favorites, The Colour Out of Space. As an added treat two sometime members of Rotten Piece, the top of the Houston surrealist noise pile, helped out this show. Carol Kelly played keyboards for the perennially absent Flip Osman. C-Dog supplied the mind warping light show: a cheesy Star Trek film (can you say "Captain Pike?" I knew you could) interwoven with some very psychedelic slides. Of course, the K-Mart light organ in front stole the show. [ed. Just wanted to give (ex-Mike Gunn drummer) Kurt Mackey props on filling in for Larry Liska at the last minute.]
Several hours later, the Bevis Frond tore through a great 40 minute set - with the exception of the amazing "Stoned Train Driver", no jamming was allowed. On the positive, there was much dancing in the crowd and shared feeling with the band - more than in Austin the next night. Unfortunately Nick Soloman & Co.'s night in Houston was cut short by a combination of really stupid (and since repealed) local ordinances and too many bands booked. Sorry, but they could've lost 7% Solution that night, and I would've been OK with it. After all, Bevis Frond came to Houston all the way from the UK, and 7% Solution came all the way from Austin. That's something like 8 time zones as opposed to 3 hours by car if you stay on the back roads through the hills. Anyhow, the talented but sometimes unfortunately self-absorbed band from Austin played longer than the much better band from England. These things happen. Still, I would go see 7% Solution again, even if Ms. Caustic wouldn't ("oh please save me from the fucking sensitive types.") The other band, Yind, had brought their "interesting in concept but dull after 10 minutes" act all the way from Sweden. Could've done without them too that night. [Pardon my interjection here but, for what it's worth, I thought Yind was not only great but a wonderful break to the all rock action. No offense Austin-RM]
The next night in Austin was magical. For approximately 110 minutes, this year's lineup, Nick Soloman, Adrian Shaw (ex-Hawkwind bassist) and Joe (a drummer who has played for Silver Apples) held a very cool, mostly seated Ritz Upstairs crowd riveted. When they started, everybody thought they were tuning up at first, but it got louder. All of a sudden, we found ourselves in the middle of a feedback-drenched improvisation. About 30 seconds after I realized they were actually playing, they launched into the musical portion of "Mountain Time", the heaviest of the heaviest of Frondsongs. Joe and Adrian were holding a 3,000-ton bottom down; while Nick channeled Hendrix through his guitar. The rest of the set was equally mind elevating, with a great cross representation of the very old to the very new. The new material is especially compelling live. The extra time allowed the band to stretch out on some of their songs, with amazing results. My personal favorite was an extended version of "Stain on the Sun". Alas, it did finally did come to an end. -AC
---

David Wilcox and Sean McManus
Roger Troutman Memorial Dance Party
Friday November 19, 1999 at Mary Jane's
So you've seen "House Party", right? That scene where Kid is dreaming of the party and the roof literally is blown off the house? That was the intent of two goofy white boys when they put this thing together. It was destined to either suck loudly or succeed wildly. Thankfully it was the latter.
If you don't know Sean McManus you're either really lucky or really deprived. He's a dancer extraordinaire trapped inside a…oh, what does mothers always say? Ah yes… a "husky" body. This time the shake your ass master teamed off with David Wilcox for what was supposed to be a DJ contest but was more accurately an MC contest. As a duo, Wilcox would be the Dean Martin to McManus' Jerry Lewis. Well, maybe more Puff Daddy to Flava Flav.
Sample of dialogue:
David: Hey, you people at the bar! This ain't no punk rock show!
Sean (with gold teeth shining): Now, ah wuz at Sun Ra last naght and there was a lotta hippies there…and they wuz dancin'. I think you people know what ahm tryin' to say.
David: Ah think what Sean is trying to say is that if you ain't dancin' youze worse than a hippie!
I actually had to leave before Sean found out if he'd sweated off more pounds than James Brown but the joy of seeing a bunch of goofballs bouncing up and down chanting with the Sugar Hill Gang ("Kimosabe! Jump on it! Jump on it! Jump on it!") was hilarious enough. -RM
More Reviews