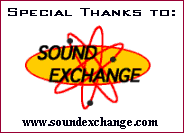 Summer 2000
---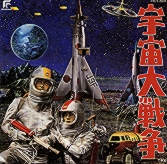 Akira Ifukube
Uchu Daisenso (a.k.a. Battle In Outer Space) Soundtrack
Toshiba-EMI 1959
I found this in a used CD rack and had no choice but to buy it. How bad could it be for eight bucks? After all, it was Akira Ifukube who'd composed soundtracks for many a Godzilla (or more properly Gojira) movies. Moreover, it is the soundtrack from a film directed by the great Ishirô Honda (the creator of Godzilla). Of course, any good soundtrack is intended to accompany the film and it will always lose something when removed from its proper environment. Some pieces in Uchu Daisenso work well alone like the theme which has the appropriate amount of bombast one would want when engaging nasty aliens out to destroy the Earth. Others pieces are flat out annoying out of context- specifically, anything approaching a marching band. A testament to the value of context are the last two tracks which are accompanied by rocket countdowns, dialogue, and cool sound effects. These last two tracks are so much fun that they belie the futility of removing one part from the body and expecting it to work as well as it did while connected.
Black Sun Ensemble
Sky Pilot
Camera Obscura (1999)
The BSE is, for all practical purposes, Jesus Acedo. Acedo is a man with issues to say the least. In 1993, Acedo torched 500 copies of this album claiming "Psycho Master El" (original title) was the work of Satan. Seven years later, we have a newly titled and re-mixed version that leave us grateful that the master tapes survived.
The title track seems to be an overture of Acedo's best ideas. Manny Peter's Egyptian hand drums are so cool you tend to miss him in the other tracks. However, the emphasis is on Acedo and Duane Norman's interactive guitars that slink like two snakes slithering on the hot desert sands. Norman's clarinet adds just the right eastern flourishes to complete the scenery. "Staying Power" is lovely song - its vocal melody recalling early Sonic Youth's attempts at pop with Acedo's earnest vocals adding a sweetness that leaves one with a broad smile. The best moments of the album surround the eastern sounding guitars - songs like "Dove of the Desert" and "Moby Worm" have beautiful solos that soar. Weaker moments are the more rock oriented numbers like "667" which can only be described by the phrase "generic punk rock riff". Yet, despite this, the strength of other rocking tracks like "Lord of the Fleas" (which seems to succeed almost by a force of will) provide enough thrilling guitar work to pummel any non-believer.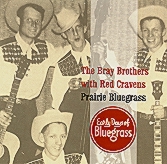 The Bray Brothers and Red Cravens
Prairie Bluegrass
Rounder Records (2000)
Bluegrass is so much fun. This mandolin, guitar, and banjo powered folk music can move anyone's lazy ass off their chair - 'ceptin' 'course if yr. dead. The Bray Brothers and Vocalist Red Cravens first joined forces in 1954 and, after many years of performing, settled in an apartment (419 W. Main / Urbana, Illinois). From that apartment, they set up an impromptu recording studio to broadcast performances for WHOW in nearby Clinton, Illinois. This CD is a compilation of those shows complete with songs, station breaks, and (most endearing) local ads. The ads and station breaks you can't help but enjoy. I mean forget Dylan dig the poetry of "it's the high high high cost of living/ What in the world's a workin' man to do/ Go buy what ya need at Mew Barn/ and they'll save money for you." Aside from the charm of old-time radio, the music and performances overflow with an informal joy one expects from the genre. The harmonies are unique in the fact that they are so restrained - a compliment to Cravens vocal style. It is amazing how great most of the sessions sound (kudos to audio restorer Murray Pleasance). The result is a wonderful time machine that transports us to a piece of Americana that is just as alive and relevant today as it was when they were first broadcast 40 years ago.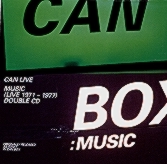 Can
Live Music (Live 1971 -1977)
Spoon (2X CD 1999)
There are two kinds of bands: those who thrive in the studio and those that thrive in a live setting. Can seems to have fallen into the former category. One friend has told me that the full box set containing the accompanying videos gives a better feel for the performance. I've not seen the video and thus must restrict my review to the music alone. Sadly, I cannot recommend the results. If I am going to pay serious bucks for a two CD set, I want the live versions of studio work to add some depth or twist upon the original. If there are some jams (oh, excuse me "improvised compositions") they should be the kind that are of value not just the performer but also to the audience. Can Live fails on both counts amounting to the worst offense possible - boredom. Listening to material like "Yoo Doo Right", I kept thinking how much I enjoyed the studio versions while jams like "Kata Kong" left me wondering how much time remained on the track. In the end it's nice for completists but easily the last place to start if you want to be introduced to Can.

Dog Faced Hermans
Human Fly/ Everyday Time Bomb
Loveletter Records (2000 CD reissue)
The Dog Faced Hermans were one of the best live bands to ever walk the earth. Guitars would skronk, trumpets would wail, and drums would flail. Yet, the most amazing thing of the show is how their performances were a celebration of music and, well, community. You weren't just seeing a show, you were invited to participate. The Herman's music is a music of hope and possibilities. As with any good band, they are long broken up but, thankfully, Loveletter records has had the good sense to reissue, for North American consumption, this early DFH collection.
Here, unlike the above slighted Can, we have a band that breathed just as well under the studio as under the hot and sweaty atmosphere of small clubs. This collection -as with any DFH release- captures all the manic energy of their live performances in a studio setting and the bonus is you don't wake up smelling like stale cigarettes the next day.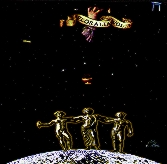 V/A
Floralia Vol.3
WoT 4 Records (CD)
This is easily the best of the Floralia series. From it's beautiful packaging (kudos to Victor Basurto) to the tracks. So here is the play-by-play.
OK I wrote a full band by band review and then my system crashed (thank you windows 98!!!!). I'm sorry but I just cannot do it as well a second time and I really don't want to hold back the reviews any longer so I will proceed to a quick summary.
As I was saying before i was so rudely interrupted. The collection is the best of the Floralia series. Some highpoints are OHM with its Frippian ambience, Acid Mothers Temple and the Melting Paraiso U.F.O. with their theramin driven garage rock, and Smoking the Century Away which is another Victor Basurto/ Jorge Beltran Project with the added clarinet skronk of Carlos Avarado. The rest of the Cd is beautiful and impressive with only one stumble - I will say no more than this "If you want to sing in a higher register - I don't care how much you are into your words - remember this is a technique only for the pros". Despite this one song, Floralia is a wild and groovy ride indeed.

Flossie and The Unicorns
LMNOP
Skin Graft (CD)
What's New Miss Pussycat, Woa Woa Woa Woa! Man, this is some weird stuff. Picture like that weird puppet show that they had when you were a kid on the local independent TV station, ok, now make it weirder...ok now weirder...keep going.
The best part of this CD is the beginning where we hear a fairy tale. It's a typical tale: heroine wants to teach all the animals to play instruments to form a band, an evil witch puts a spell the thwart drummers, and, well, we all know where this ends up, don't we. Live Miss Pussycat (the mastermind behind all this lunacy) performs in conjunction with her partner in crime the organ man himself Mr. Quintron. When I saw Miss Pussycat perform, a glitch cut the performance short. Yet, despite the pesky curtains blocking your view, the story that went on was still pretty unexpected and entertaining - so much so that the Mr. Quintron performance that followed was anti-climactic. How can ya follow this mind bending stuff?!!! Be ye of the same persuation as I - most puppets are cool - this is most definitely a must. but this is for anyone who wants to twist their and teir children's little minds.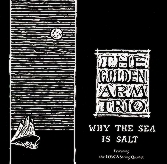 Golden Arm Trio
Why The Sea
Loveletter records (CD 2000)
GAT is the kind of band that re-score "The Battleship Potemkin" and also work with the TOSCA tango group, puppet theater, and various dance groups. Saxes, violins, vibraphones...I hate saying things like this but it just came to my head and it seems relevant - "When was the last time you were excited about release by a Chicago instrumental band?" Well, if the question is rhetorical for you, then you really should pick this up. GAT is like a time machine gone haywire with elements of 20th century chamber music, Jazz, early 20th century soundtracks, and the kitchen sink.
The man behind this ensemble is Graham Reynolds who's been described to me as quite a serious fellow. This seems to be hard to believe considering the humor and lightness of pieces like "Finister Crumley" and "Deadman's Hall" which are just too droll for me to reconcile with this description. But there's more to this than goofs, GAT ranges from beautiful violin and organ melodies like "Swift Ship Sailing" to all out skronk fests like the opening of "I Can Do What Ever I Want". Truly a marvelous and fully realized work - my hat is off, Mr. Reynolds.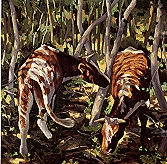 Mats Gustafsson
Mouth Eating Trees and related Activities
Okah Disk (1996 CD)
Of all the Gustafsson CDs I have reviewed (this is my third) I have to say this is the best. The first track alone Gustafsson putters, snorts, screeches, whispers, crunches, and anything else you can thing of with his saxophone as if he's trying to change the genetic structure an animal - mutating it before our ears. The rest of the tracks accompanied by Paul Lovens (percussion) and Barry Guy (bass) is like crossing some alien landscape where everything is new, fresh and unexpected- it is inspired and engaging artistry. Forget the Hollywood blockbuster this summer if you really want a ride go back and pick up this gem.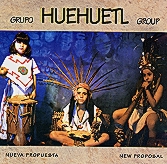 Huehuetl
Nueva Propuesta / New Proposal
Isaac Borsegui (1999 CD)
Huehuetl is a musical family from Mexico headed by Isaac Borsegui. What is so amazing about what they do is that all instruments are hand-made by the family and used in their performances. After they play they usually have these same instruments for sale to the audience. Instruments played here are exotic Mayan instruments like the HOM (Mayan trumpets), Tetl (a family of instruments made of resounding stones), and Tenabaris (butterfly cocoons). I guarantee you this is unlike any other Mexican music you've heard. Borsegui and his wife Patricia Alcala' base their music on anthropology, archeology, and musicology. The result is amazing and if you are lucky enough to see them play live, it is a treat. Not only does the family play these songs but also perform them as ceremonies in the tradition of Native American villages. If there is one complaint is that "Alegeria" the group's usual closing number - which can go on for up to 15 minutes live- is somehow relegated here to a paltry 1:51 minutes. None-the-less, that is a small complaint in an otherwise wonderful recording of a unique live band.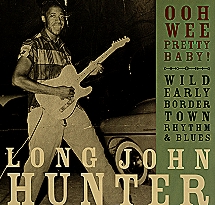 Long John Hunter
Ooh Wee, Pretty Baby :
Wild early border town rhythm and blues
Norton Records (1999 LP)
Oh to have been in El Paso, TX. in the late 50's and witnessed this man in action at the "Lobby Bar" - ya gotta love that name. Hunter was a master of his genre. The guitar blazes even when at times the band, made up of bartenders at the Lobby Bar, play with a vigor that betrays their newness to the genre ("My band ...spoke no English. But they wanted to play music and in two weeks they coulda been playing with almost anybody"). This has to be one of the most lovingly packaged LPs in recent years - proof why a CD just can't make up for the beauty of 12" vinyl. The gatefold includes a wonderful interview with Hunter (in very very tiny print), photos, and Miriam Linna provides a wonderful essay on the back cover. It is just what you would expect 50's era rock and roll at its most pure and honest incarnation. Hands-down this is my favorite re-issue of the year.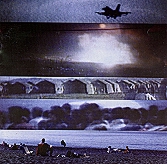 Kryptasthesie
No Age
Mizmaze records (1999 CD)
Audubon would kill his birds then he would draw them - capturing their beauty in death. Kryptasthesie has accomplished the same thing. "No Age" is the last dying breath of one of Italy's greatest psychedelic bands. Over all they have done over the years, THIS is the idealized statement by this band. A large part of the success is singing in their native Italian, which is truer to the band than earlier records that employed English. I believe that language just is not a way of communicating ideas but it also shapes your thinking. Thus, when the band previously used English, it seemed forced whereas now the vocals are working with the music (not against it). The band seems to want to put everything into this record. They get atmospheric with "ALH84001" and rock like a modern Pink Floyd (meddle era) in "Il Tao Della Violenza" and get techno with "Tutto Passa". It seems that when you get this good you've got nowhere to go but down like a brilliant asteroid on its way to its eventual breakup. Lets hope that the remnants that have shattered on impact are as brilliant as their source.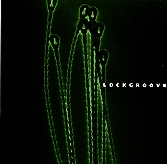 Lockgroove
Sleeping on the Elephant Fog
Krave Records (CD 1999)
When I first heard Boston's Lockgroove their influences were worn on their sleeve (notably the Spacemen 3). To their credit they have done what many SP3 influenced bands have failed to do - expand the ideas and evolve into a unique musical experience. Sleeping on the Elephant Fog is about as perfect an album as you can find. From soothing songs like "Safer Side" to more driving songs like "Engine Drone", the band know what they want to accomplish musically and they do so with an intelligence and energy that I hope will be rewarded by a larger audience. Keep an eye out for these guys - if this is any indication, you'll be hearing a lot more about them.
Modest Mouse
Building Nothing Out of something
Up records (1999 CD/LP)
Ever have one of those songs that you can't get out of your head? Well, after hearing "Never Ending Math Equation" on KTRU I had to heed the Sirens call and drive to Sound Ex. and buy this lil' collection of Singles by Seattle's Modest Mouse. Most of y'all are probably familiar with Modest Mouse's pop meets Chicago Alt. rock sound and this is no different. Isaac Brock's quivery achy voice flow evenly across 4 years worth of 7" that are mostly equal in quality. Beautifully recorded, lovingly performed, and smartly written - Modest Mouse knows how to make a single sing. If you haven't already collected the 7" (or tragically do not own a Record player), this is a nice addition to your collection.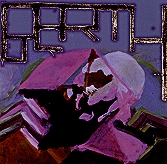 The No Neck Blues Band
The Birth of both worlds
No Neck Blues Band (CD 1999)
Two CDs of open-air performances by NNBB should be a treat and as it turns out it is. Ya got yr. flute, drums, strings, and anything they seem to get their hands on. The musical emphasis here is the moment. The improvisation works better than the previously reviewed CAN LIVE because one gets the idea that the band is interacting on a human scale - the result is as rewarding for the musicians as it is for the listener. The ebbs and flows of the music aren't relegated to the performers but reaches out and engages the listener. Hippie Dippy you say? Well, maybe it is hippie dippy but sometimes that's what the soul needs.
Olographic Landscapes
Shui
AuA Records (1999 Italy CD)
With the demise of Italy's Kryptathesie some of us were quite disappointed since (as reviewed here above) they seemed to have finally hit their stride. Yet, Fausto Radaelli and Vincenzo Romeo already forged ahead with their newest project - Olographic Landscapes. This instrumental unit adds Violoncello player Maria Puggioni and Flutist/Keyboardist Stefania Puggioni to the already talented duo of Radaelli and Romeo. Sounding at times like medieval minstrels and at others like a techno inspired version of UI, it is a reminder of the unique sensibility of Italian Psychedelia. After all, how many psyche bands play a darbuka? One of the more remarkable moments is Stefania Puggioni adding beautiful eastern vocals on "Blue Ghat" that float mist-like over the bells and cello. My favorite pieces are the acoustic moments like "Shui" - its tabla, cello, and flute soothing you like a cool spring day. Like the band's name seems to imply: this is Olographic Landscape's first travelogue of uncharted lands. Just sit back in your chair, perhaps with a glass of grappa and enjoy the journey.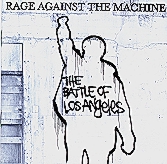 Rage Against the Machine
The Battle of Los Angeles
Epic Records (CD 1999)
"Sony Corporation [Ed- Owners of Epic Records]...last month joined a consent agreement settling Federal Trade Commission charges that industry policies have illegally inflated retail CD prices. The FTC said consumers lost $480 million during the 2 1/2 years [in which Sony and other] music companies used an enhanced advertising program to end a price war that had broken out among retailers." -Amanda Tyler, CBS Market Watch
Well, I guess consumer protection isn't sexy enough for Zack De La Rosa to sing about. OK, to an extent it may be a cheap swipe on my part. I tend to agree with RATM's politics. How many major label bands take the time to highlight something like a strike by the Janitors Union of Los Angeles? But, let's face it, RATM is getting played on ROCK stations - a pretty sexist and boorish form of radio. Why do you think Mike Judge gave Beavis and Butthead AC/DC and Metallica shirts? I would venture to say that many RATM's fans from this medium are as politically conscious as my compost heap. "That was Kid Rock with 'Balls in my Mouth' and coming up next is Rage Against the Machine." What can you say about a genre that has all but ignored rap until a bunch of white boys like Limp Bizkit and Kid Rock decided that they could do Vanilla Ice one better. But, again I can't hold the band responsible for that either - I'm just swimming in the irony.
The Good thing is that RATM actually IS a fucking great rock band. Hey, somebody had to revamp the old Public Enemy concept sooner or later. In fact, the "Guerrilla Radio" is nothing more than a cool reworking of PN's "Bring the Noise". Guitarist Tom Morello deserves every bit of praise he's received. His guitar makes noises that you'd swear were keyboards or samples. This CD suggests that, hands down, this band is one of the few major label rock band worth anyone's time. It also is proof that the Rap/Rock fusion - in the right hands - can actually work marvelously. Sadly, RATM are the exception rather than the rule. In this instance, you CAN believe the hype.

---
Back to:
More Reviews
Worship Guitars Homepage