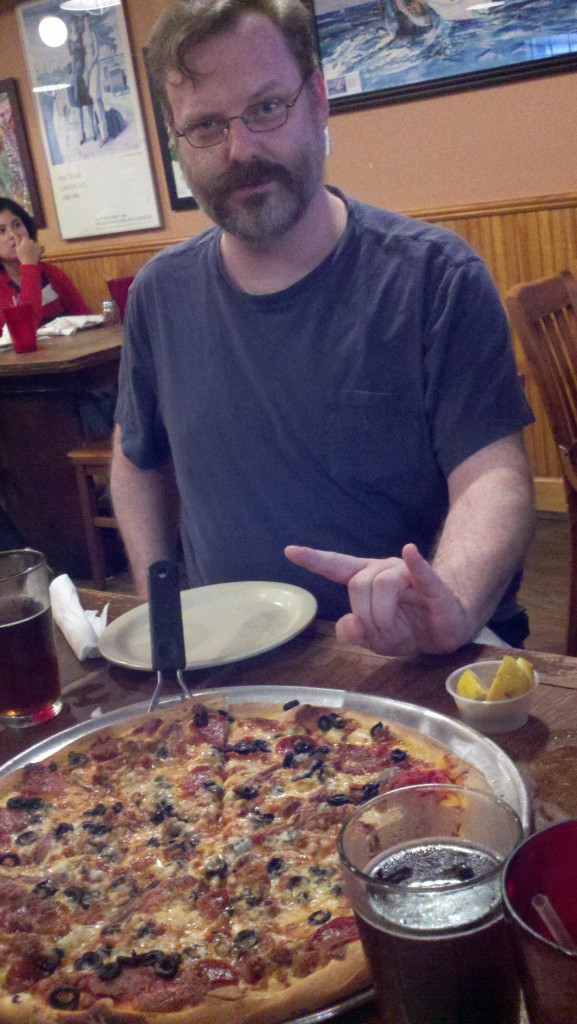 Tuesday night we had a little video release celebration before practice at Star Pizza and knocked back some Shiners over pie and Olympic Women's Beach Volleyball (USA!!  USA!!! USA!!!). Our good friends Mlee and Chris joined us for the celebration though sadly Bubba and Larry weren't able to make it but it was nice to raise a toast to all the hard work we (not just us but Bubba, Julia, and the Pr folks at Audible Treats) have done.  Extra kudos that night go to Mlee for cutting me to the quick with a well-deserved put down that I'm still smarting from.  When the entire table screams "OOOOOOH!" you know the lass just took the gold! 
Anyhow the reason I brought this up is (and I think we've mentioned it before) that we actually have a specialty pizza, developed over many years, that we order – we call it the Linus Pizza.  You can see it in front of Charlie in this pic from Tuesday night.  If you are in Houston and want to rock the pie like we do, go to Star Pizza and ask for the Linus Pizza – New York style thin crust on white: with italian sausage, black olives, anchovies, and Pepperoni.   We were all pretty stoked to see what Chris thought of our pie (Mlee already gave it a thumbs up) and his reaction was, "Damn, that's salty!"  Yeahyussss! 
In other earth shattering news Clinton, under the screen name .ac.Svejk came in 4th in an Alien Arena tournament!!!   Currently he is ranked #57 globally and is ready to take on any one foolish enough to meet him in the arena.  WOOO! 
If you must know, his screen name comes from the book The Good Soldier Švejk by Jaroslav Hašek.  If you are ever wondering why we aren't considered a particularly cool or hip band, I think the combination of video games and  obscure Czech lit in this example alone should give you a hint as to why.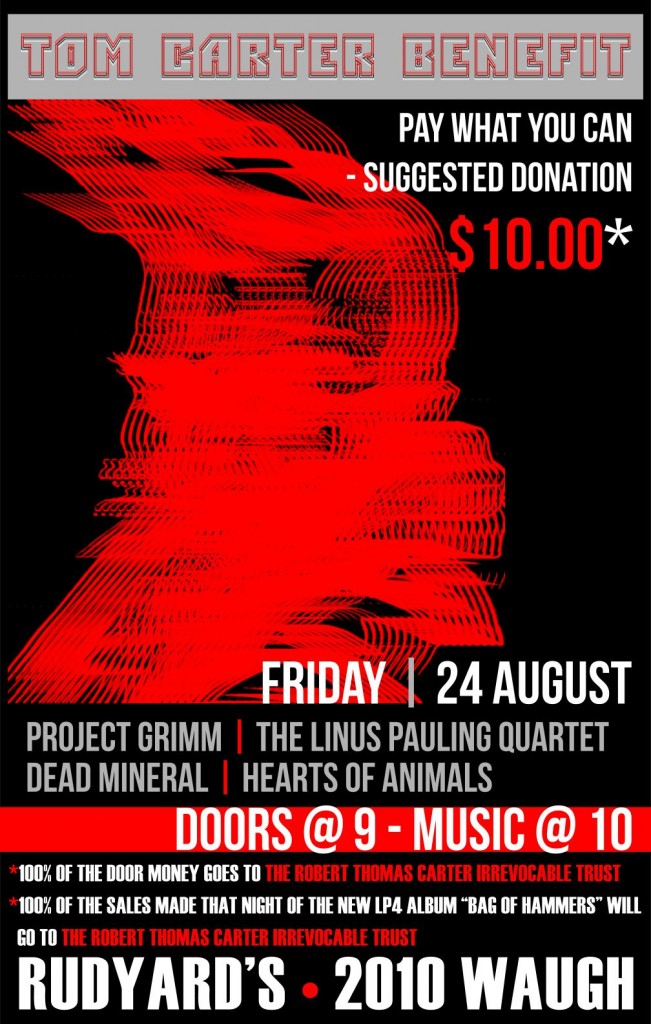 We also rehearsed two Mike Gunn songs for the Tom Carter benefit.  We had to re-learn both "Tom's in the Bathroom" and "Song About Horses."  What was funny was that I totally forgot that there was a descending riff in the Bongtooth/Schlong Weasel original arrangement and that, because I wrote the bass riff on a fretless, there is actually a 1/4 step drop at one part of the bass riff so you really do have to play it on a fretless.  Kind of funny that and in the process of digging up something unrelated for Clinton, I found a CDR of the old Bongtooth demos that John Cramer, Jim Otterson, Kurt Mackie, and I recorded ages ago.  John and Kurt took some of the songs from here with them to the Mike Gunn so these versions are very primordial and they sound so primitive that even prokaryotes would cringe – terrible mixes, awful microphone sounds, and all that – but hey, what do you want for a cassette  4-track?  Still it was cool to hear that stuff and I may drop it out there on Bandcamp as a free download for those Mike Gunn completists who want to hear early versions of some Mike Gunn songs.